India's best Motorcycle and Motorcycle touring experts
Art of Motorcycles is a place for all motorcycle lovers from any background to interact, learn and grow as bikers. One stop destination for all motorcycle performance and touring needs
Art of Motorcycles has its own proprietary products like Royal Enfield Handlebars , Interceptor Radiator guards and other products for enhancing your racing and touring experience.
Providing great motorcycling experiences for Over 10 years​
Art of Motorcycles is the Adda where Motorbike Maniacs meet and avail services ranging from Guided Motorcycles Tours, Race Training and Bike preparation.
Art of Motorcycles builds Custom Motorcycles based on rider's needs & provides regular maintenance and service for the customized bike.
Art of Motorcycles is known for building Off road, Touring and Race specific Motorcycles.
About the Founders of Art of Motorcycles India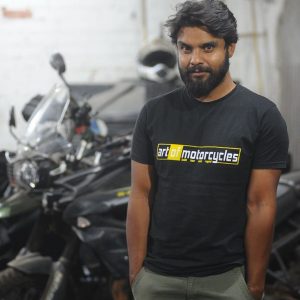 Murthaza Junaid
Founder
Murthaza Junaid, one of the most familiar & revered name in Indian motorcycling. He is an avid traveller, adventure lover, moto instructor & an entrepreneur. Fondly called as Junaid bhai, he helps bikers & travellers all over the world. He supports budding racers & stunt performers. He has gained respect & love in the community and is an influencer of merit.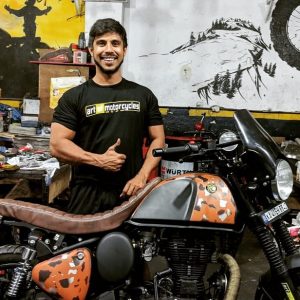 Muteeb Zoheb
Founder
Muteb Zoheb is a born rider and traveller. He does an average of 30,000 Kms annually. He has adventured across India and knows motorcycles inside out. Fondly called as Zoheb bhai, he develops and test new performance products for motorcycles. He knows the pulse of a rider and has an uncanny ability of syncing the rider with his motorcycle.